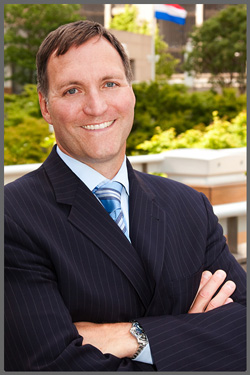 Gregory L. Harper
Attorney
Greg is the founding member of Harper | Hayes PLLC. Greg represents business and property owners in all types of disputes, including those arising out of the construction, real estate, banking, and securities industries. A large part of Greg's practice involves representing his clients in court against insurance companies in bad faith and coverage litigation. Those disputes involve every conceivable type of insurance product on the market, including General Liability, Builder's Risk, Professional Liability, Directors & Officers, Employment Practice, and First-Party Property insurance.
Greg's clients typically bring high-stakes legal problems to the table. Greg delivers solutions by helping clients define their objectives and design an action plan to achieve those objectives. He is equally comfortable delivering results at the negotiation table or in the courtroom. He has tried cases to the bench and jury in state and federal courts, and has handled appellate work for his clients in the Washington Court of Appeals, the Washington Supreme Court, and the Ninth Circuit Court of Appeals.
Insurance Coverage Law
Construction Defect Litigation
Commercial Litigation
State and Federal Appeals
Gonzaga University School of Law (J.D., 1997)
Duke University (B.A., 1988)
Washington State Bar Association
Washington State and Federal Courts
Selected for inclusion in Washington Super Lawyers 2005, 2007–2019
Ranked among Top 100 Super Lawyers in Washington 2014, 2016–2019
Fellow, Litigation Counsel of America—Honorary Trial Lawyer Society
Recovered over $9 million for national general contractor to compensate client for amounts paid to settle claims against it, as well as for unpaid contract balance.
Recovered $6.3 million for Seattle condominium owners association from property insurers that initially denied a water damage claim in its entirety.
Recovered $3.5 million for international general contractor client from several insurance companies in a dispute involving a major metropolitan light rail project.
Recovered $2 million for small business owner in dispute with liability insurer over coverage for professional defamation.
Obtained $2.3 million judgment on behalf of client against excess insurance carrier which denied coverage for an arbitration award.
Recovered $1.5 million for Seattle homeowner whose insurance companies initially refused to defend and indemnify him against a lawsuit filed by the City of Seattle.
Recovered $1 million for Spokane apartment owner from insurance company that initially told owner that "none of the damage is covered."
Recovered $900,000 for Seattle apartment owner from property insurers who refused to pay for "collapse" damage.
Recovered $820,000 for Everett apartment owner for water damage claim.
Recovered $750,000 for Seattle condominium owners association facing a large repair project because the developer failed to complete the building envelope.
Recovered $750,000 from a Directors & Officers insurer to reimburse HOA board member clients for defending an arbitration proceeding.
Recovered $600,000 for Ballard apartment owner for repairs to damaged sheathing and framing.
Recovered $1.2 million for North Seattle condominium association from several property insurers who refused to pay a water damage and "collapse" claim.
Recovered in excess of $2 million for Bellevue owners association in construction defect lawsuit.
"Insurance in the Construction Industry" Co-Chair, The Seminar Group, October 2011″
"Insurance in the Construction Industry" Co-Chair, The Seminar Group, October 2010
"Western Regional Construction Defect & Construction Law Conference" MC Consultants, September 2009
"Liability of Corporate Executives: Risk Management Strategies & Solutions" The Seminar Group, May 2009
"Insurance in the Construction Industry" The Seminar Group, October 2008
"Insurance for Developers, Contractors and Subcontractors" The Seminar Group, June 2008
"Insurance Law for Builders and Developers: Construction Defect Litigation" – a Panel Discussion Harper Hayes PLLC, March 2008
"Property Insurance for Condominiums and Apartments: The Property Manager's Perspective" Harper Hayes PLLC, February 2008
"Condominiums: Opportunities and Pitfalls" The Seminar Group, June 2007
"Insurance Coverage Law in Washington" National Business Institute, January 2007
"Insurance Bad Faith Claims in Washington" Lorman Seminars, July 2006
"Condominiums: Opportunities and Pitfalls" The Seminar Group, June 2006
"Alternative Dispute Resolution in Construction Defect Litigation" Mealey's Seminars, June 2006
"Insurance Coverage Law in Washington" National Business Institute, June 2005
A liability insurer failed to take a coverage position for over a year after its policyholder requested a defense. Two weeks after being sued, the insurer offered to defend, then argued its belated offer "cured" any breach of its duty to defend. On summary judgment, a Western District of Washington…
In 2016, the President of the Board of a large condominium contacted the firm, initially inquiring whether insurance would cover water damage to 80,000 square feet of roof structure. Investigation revealed that the water intrusion was caused by the defective work of the roofing contractor that installed the roofing system…
In 2014, a local equipment rental business was sued in an environmental lawsuit involving the cleanup of hazardous materials that had purportedly been released as far back as the 1950s. The business retained Harper | Hayes, which secured a dismissal of the cleanup lawsuit and brought a separate coverage lawsuit…
About Our Firm
Harper | Hayes PLLC is a business litigation law firm, focusing on insurance coverage and construction defect disputes.
Read more
Insurance Coverage
We represent policyholders in insurance coverage disputes, including cases involving property, casualty, professional liability, directors and officers, and pollution insurance.
Learn more