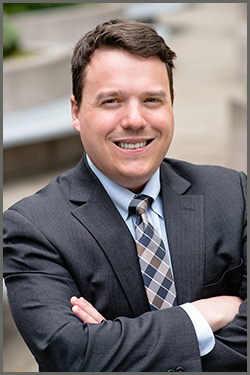 Thomas M. Williams
Attorney
Thomas represents contractors, developers, homeowners, associations, businesses and other commercial policyholders in insurance coverage, construction defect, and complex commercial litigation.
With an emphasis on policyholder insurance coverage litigation, Thomas represents policyholders to navigate and complete a wide variety of legal tasks including, but not limited to, establishing and obtaining coverage, issuing notice of loss to insurers and subcontractors, tendering claims, negotiating settlements, identifying and analyzing coverage issues, preparing claims and proofs of loss, and bringing actions against insurers for breach of contract and bad faith. Thomas works with policyholders to determine and meet their goals by building unique strategies and approaches when considering the particular facts of each individual matter.
In addition to coverage litigation, Thomas also represents business owners, contractors and developers in complex commercial litigation, including real estate development, construction defect, environmental issues, and business disputes.
Insurance Coverage Law
Construction Defect Law
William & Mary School of Law (J.D., 2011)

William & Mary Law Review

University of Washington (B.A. with a Minor in Law, Society & Justice, 2007)
Washington State Bar Association
Washington State and Federal Courts
Hawaii State Courts
A general contractor tendered a claim as an "additional insured" to its subcontractor's liability insurer. The insurer denied any duty to defend or indemnify on grounds that the general contractor was not an additional insured and that the insurer had no coverage obligations until the subcontractor satisfied a $500,000 self-insured…
A liability insurer failed to take a coverage position for over a year after its policyholder requested a defense. Two weeks after being sued, the insurer offered to defend, then argued its belated offer "cured" any breach of its duty to defend. On summary judgment, a Western District of Washington…
Homeowners at a condominium in downtown Seattle recently discovered water damage inside the roof of their condominium. The condominium association retained Harper│Hayes to file a lawsuit against the association's property insurer, which had denied coverage. Soon after the firm launched a summary judgment motion—arguing the loss was covered and the…
About Our Firm
Harper | Hayes PLLC is a business litigation law firm, focusing on insurance coverage and construction defect disputes.
Read more
Insurance Coverage
We represent policyholders in insurance coverage disputes, including cases involving property, casualty, professional liability, directors and officers, and pollution insurance.
Learn more