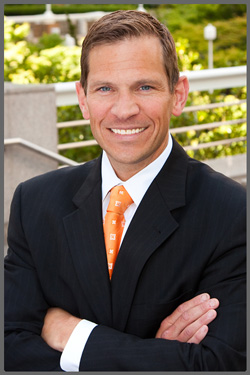 Todd Hayes represents contractors, property owners, developers, and other business owners in litigation, with an emphasis on insurance coverage, construction defect, and appellate matters. He has handled cases regarding all categories of insurance, including directors & officers, commercial general liability ("CGL"), builder's risk, professional liability, and property insurance. Todd has secured tens of millions of dollars in settlements for his clients, and tried numerous cases to both juries and the court.
Todd frequently lectures on insurance coverage and construction defect law, and was recently named one of Washington's Top 100 "Super Lawyers." Listed among the "Who's Who in Washington Appellate Law," he has argued before the Washington Court of Appeals, the Washington Supreme Court, and the Ninth Circuit Court of Appeals. His appellate decisions include Dewitt Const. Inc. v. Charter Oak Fire Ins. Co., 307 F.3d 1127 (9th Cir. 2002) (CGL insurance policy covers "get to" costs); Washington Greensview Apartment Associates v. Travelers Property Cas. Co. of Am., 173 Wn. App. 663, 295 P.3d 284 (2013) (awarding policyholder its attorney's fees under "offer of judgment" rule); Lakewest Condo. Owners Ass'n v. Tokio Marine, 2010 WL 2178825 (Wash. Ct. App. 2010) (reinstating $7 million default judgment in favor of insured); Williams v. Athletic Field, Inc., 172 Wn.2d 683, 261 P.3d 109 (2011) (establishing requirements for contractor's lien); and Panorama Village Condo. Owners Ass'n Bd. of Directors v. Allstate Ins. Co., 144 Wn.2d 130, 26 P.3d 910 (2001) (insurance policy's "suit limitation clause" starts to run when decay is no longer hidden behind building's siding).
Todd earned his B.A. degree in business administration from the University of Washington and his J.D. degree from the University of California, Hastings College of the Law. Following law school, Todd clerked for The Honorable Gerry L. Alexander, Chief Justice of the Washington Supreme Court.
Insurance coverage
Appeals
Construction defect
University of California, Hastings College of the Law, J.D., 1996
University of Washington, B.A. in Business Administration, 1990
Washington State & Federal Courts
Washington "Super Lawyer"
Washington "Super Lawyers" Top 100 List
"Who's Who in Appellate Law" – Washington Law & Politics
Fellow, American College of Coverage Counsel
Editorial Board Member, Insurance Litigation Reporter
Co-author of Washington Construction Law Deskbook, "Indemnity and Insurance"
Member, Washington State Bar Association
In a state court appeal, obtained the reinstatement of a $7.5 million judgment in client's favor against a large insurance company. The insurer subsequently settled the claims against it for $6 million.
Successfully tried claim against liability insurer, establishing coverage under contractor's CGL policy for construction defects and resulting property damage.
Seven-figure settlement in environmental coverage claim under policy characterized by insurer as containing "absolute pollution exclusion."
Secured key summary judgment ruling for apartment owner, establishing coverage as assignee under property insurance policy sold to building's former owner.
Seaman v. State Farm, (2007)
Represented commercial property owner in successful appeal establishing insurance coverage for "collapse" caused by "faulty construction" (Seaman v. Truck).
Secured over $2.4 million in settlements on behalf of former directors and officers in Federal Court lawsuit and related arbitration – issues included scope of "insured v. insured" and "illegal benefits" exclusions and liability insurer's ability to segregate settlement between covered and allegedly uncovered claims.
In Ninth Circuit appeal, established liability insurance coverage for drilling subcontractor arising out of lawsuit over damage to work of other subcontractors and resulting delay damages incurred by general contractor.
DeWitt Constr. Inc. v. Charter Oak Fire Ins. Co., 307 F.3d 1127 (9th Cir. 2002)
Successfully tried construction defect and insurance bad faith case on behalf of condominium owners association, resulting in $4 million-plus arbitration award and $260,000 award under Washington "Consumer Protection Act."
Successfully represented residential homeowner in construction defect lawsuit against builder, design professional, property insurer, and liability insurer (as assignee of contractor); secured over $2 million in settlements after litigating issues regarding effect of bankruptcy stay and scope of general liability insurer's coverage for "continuing loss."
Represented former judgment debtor in successful appeal regarding ability of judgment creditor's assignee to obtain extension of judgment.
J.D. Tan, L.L.C. v. Summers, 107 Wn. App. 266 (2001)
Secured coverage for directors and officers of charitable organization under directors & officers non-profit liability insurance policy – issues included timing of "claim" and scope of multiple exclusions.
Obtained multiple settlements totaling mid-seven figures in representation of property owners against developer and as assignee of contractor.
Represented general contractor in dispute against "Insurance Guaranty Association," including prosecution of successful summary judgment motion regarding "exhaustion" of other coverage.
Successfully represented condominium homeowners association in lawsuit against first-party property insurer over coverage for "collapse" caused by "hidden decay." Issues included scope of "known loss" rule and ability of policyholder to recover non-attorney's fee damages in suit against insurer.
Panorama Village Condominium Owners Ass'n Bd. of Directors v. Allstate Ins. Co., 144 Wn.2d 130, 26 P.3d 910 (2001)
Successfully tried case on behalf of lender seeking "equitable lien" against property subject to unenforceable deed of trust.
2018 WSBA Construction Law Seminar, "Insurance in the Construction Industry"
"Insurance in the Construction Industry," Seattle, WA, October 2009
"Condominiums, Townhouses, & Apartments: Insurance Products & Issues," Seattle, WA, August 2009
"The Liability of the Corporate Executive: Risk Management Strategies & Solutions," Seattle, WA, May 2009
"Bad Faith in Construction Defect Litigation," Seattle, WA, July 2006
"Condominiums – Opportunities & Pitfalls/Construction Defect Litigation," Seattle, WA, June 2006
"Associated General Contractors' Moisture & Construction – Legal and Insurance Issues,'" Seattle, WA, April 2006
"Fundamentals of Liability Insurance," Seattle, WA, November 2003
"Associated General Contractors' Construction Insurance Boot Camp," May 2003
A general contractor tendered a claim as an "additional insured" to its subcontractor's liability insurer. The insurer denied any duty to defend or indemnify on grounds that the general contractor was not an additional insured and that the insurer had no coverage obligations until the subcontractor satisfied a $500,000 self-insured…
Homeowners at a condominium in downtown Seattle recently discovered water damage inside the roof of their condominium. The condominium association retained Harper│Hayes to file a lawsuit against the association's property insurer, which had denied coverage. Soon after the firm launched a summary judgment motion—arguing the loss was covered and the…
A King County Superior Court judge recently ruled that a condominium association's property insurance policies cover "faulty maintenance," "wind-blown rain," and "faulty construction." The Court also decided that because the policies lacked a so-called "inverse efficient proximate cause" provision, "the Policies cover damage resulting from the combination of excluded and…
About Our Firm
Harper | Hayes PLLC is a business litigation law firm, focusing on insurance coverage and construction defect disputes.
Read more
Insurance Coverage
We represent policyholders in insurance coverage disputes, including cases involving property, casualty, professional liability, directors and officers, and pollution insurance.
Learn more